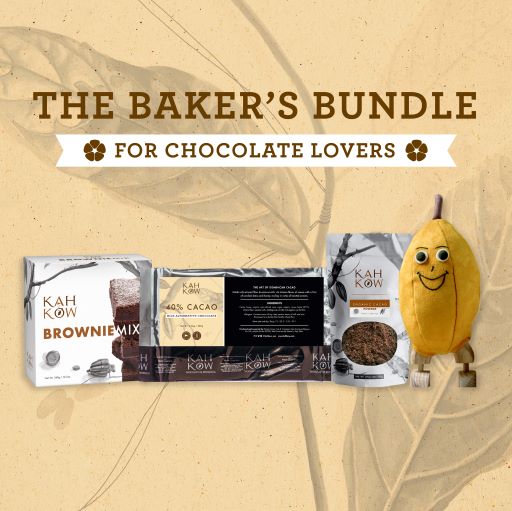 Collection:
The Baker's Bundle
The Baker's Bundle
Regular price

Sale price

$80.00
A Limited Edition bundle created specially for you #kahkowlover
This set combines our favorite products used in all of our baked goods and creations!
Our Signature Brownie Mix: Craft exquisite brownies at home with our signature mix. Made with our 62% semi-sweet chocolate, handcrafted in the Dominican Republic, this recipe is great for baking at home. Pro tip: add inclusions of your preference!
Net weight: 348g / 12.2oz
Natural Cacao Powder: is the result of extracting the liquid, buttery parts of cacao. This organic, dark powder (without any added sugar) is very popular for baking several types of sweet treats. (Larger quantities available for wholesale).
Net weight: 200g
Dark Chocolate or Milk Alternative Couverture: Made with our Single Origin Dominican Kahkow chocolate. These low cacao butter chocolates are great for preparing your favorite baked goods, and you'll be able to obtain results like a pro.
Net weight: 500g
Support The Poddy Project
Each Poddy is carefully handmade by cacao farmers' wives in the province of Monte Plata. All proceeds from the sale of Poddies, are destined to social programs that benefit members of the FUPAROCA foundation. If you wish to support the Poddy project through your business, contact us at info@kahkow.com
---